A VPN, or virtual private network, serves as a solution to a common problem: online identity theft. Since so many are in the dark about the purpose for this layer of security, we've outlined every detail — from why using a VPN is important to how you can sign up.
While the prospect of having your personal data stolen may seem unlikely, it's actually far more common than you think. According to an online survey by The Harris Poll, nearly 60 million Americans have been affected by identity theft, including nearly 15 million in 2017.
These numbers should make you rethink investing in a VPN security plan if you haven't. Among the many reasons for doing so, the top two include: 1) Better protection against hackers when using public Wi-Fi and 2) Keeping your online presence, financial data and personal information private.
How does a VPN work?
IP Vanish, effectively explains the secure connection process in this illustration: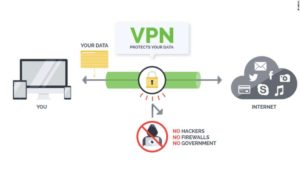 As you can see, the VPN protects your data by installing an encrypted tunnel from the network to your device. This tunnel has the ability to hide your IP address so that your identity is masked from prying eyes, such as hackers, firewalls and the government. That way, when using the internet, any external traffic is run through the tunnel so that your credit card data and other personal information are safer — even when using local hotspots and other public internet sources.
As an added perk, when you have access to a VPN, you can bypass any censorship that would otherwise prevent you from connecting. For instance, certain universities, employers and governments have censorship in place that restrict public internet connections. But, when using a VPN, you'll be able to connect wherever, whenever.
How to get started using VPN?
We HIGHLY recommend our very own ARES VPN for its low cost and ease of use, especially for beginners. Purchase your subscription here on our website.
When using a VPN, you'll need to sign up with a provider. depending on the length of the package. For instance, if you sign up for a year, it's $6.49 per month (or $77.99 billed annually) Or Less.
We'd also recommend Nord VPN
Note: The prices above reflect the listed retailer's price at the time of publication.